The field of oral and maxillofacial surgery is recognized as a specialty of dentistry, and is generally defined as the surgery discipline which diagnoses and treats diseases, deformities, and injuries of the facial and oral region. This includes the removal of teeth, the teeth replacement procedure known as dental implants, as well as corrective surgery for the jaw and TMJ conditions.
Dental Implant and Oral Surgery Center (DIOS Center) is owned and operated by Dr. Francis H. Chung, who has based his specialty practice on the traditional values of high standards, service and compassion.
Dr. Chung and his associates take the time necessary to establish a close, trusting relationship with patients to ensure optimum care.  For the last 10 years, Dr. Chung and his associates have developed a solid reputation for quality patient care.
All of us here at DIOS Center are committed to patient care from the moment you contact us. Whether you are having a simple extraction or intricate surgical procedure, your comfort is our number one concern. Most of our procedures are performed under intravenous (general) anesthesia and there will always be a doctor available to you throughout the entire treatment process. Our staff is dedicated to accommodating your busy schedules, as well as, obtaining payment from your insurance company. If you find yourself in need of a dental surgical procedure, please consider us for your oral surgery needs.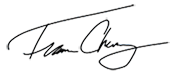 Francis H. Chung D.D.S.